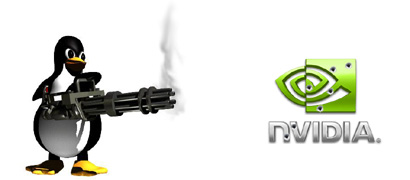 Дано:
Ноутбук Dell Vostro 3300 c дискретной видеокартой nVidia GeForce 310M на борту, Linux Mint 9 / Ubuntu 10.04 Netbook Remix, переодические подвисания (freeze) системы на 10-15 секунд. В /var/log/syslog после этого появлялись вот такие сообщения:
NVRM: Xid (0001:00): 8, Channel 00000003
Решение:

Возился я с этой проблемой с мая месяца.
Сначала думал, что баг апаратный, но в играх под Windows 7 никаких проблем не было. В Linux, при работе с открытым драйвером nouveau, тоже все было ок. А вот с пропиетарными дровами подвисало вобще без нагрузки… Так я пришел к мнению что проблема в пропиетарных дровах от nVidia.
Время от времени рыскал по форумах в поисках решения проблемы, но ничего конкретного не находил.
В мае обновил BIOS — проблема осталась.
В июне поставил новые дрова с оф.сайта — все по старому.
Июль-август перекантовался на пропиетарных дровах. Все ок, но flash видео на полный экран не развернешь…
И вот несколько дней назад скачал и установил новый пропиетарный драйвер "x86-256.44" от nVidia — проблема осталась. И главное хотел откатить, так не получается :).
За два дня оно все меня так достало, что я опять скачал обновление для BIOS и паралельно полез серфить в поисках решения проблемы. И не поверите. Нашел!
Цитирую оригинальное сообщение от wilderwind на ubuntuforums.org
Re: Debugging NVIDIA NVRM Xid Errors
Hi all! Sorry for my english, I'm from Russia
Well, I have the same bug with NVRM xid 13, on my laptop Asus Pro58VN. Ubuntu 9.10 32bit, NVIDIA 190.42 video driver, 9650m GT graphic card. I've been lookong for the way to fix this awful bug since I have Ubuntu, but I coudn't find this one. Google can't help me too ((( But in one beautiful moment I disable PowerMizer in NVIDIA X Server settings (set option "Prefer maximum performance"), and now I have no bugs with NVRM xid at all! Maybe, xid13-bug appears when video card use nvram function (1Gb VRAM for my 9650m GT card, for example) and increase/decrease GPU core frequency (if PowerMizer option is enabled)? IMHO, bug is not in linux kernel or hardware, but in NVIDIA graphic driver, in realization of PowerMizer option (aka GPU scaling) and using additional RAM.
P.S. It's not good to disable PowerMizer for powersaving and laptop battery, but it works and xid bugs not appears… Waiting for new NVIDIA driver now.
Last edited by wilderwind; November 23rd, 2009 at 07:21 AM..
и дальше:
YEAH! Problem 50% solved. To disable automatic GPU scaling in PowerMizer option of NVIDIA X Server Settings, do this:

Run in terminal:
sudo gedit /etc/modprobe.d/nvidia.conf
Write in the open window:
options nvidia NVreg_RegistryDwords="PerfLevelSrc=0x2222″
Save and reboot.
Т.е. проблема в пропиетарных дровах при включенной функции PowerMizer, который для экономии батареи по возможности снижает частоты памяти и графического процесора видеоадаптера.
Отключил я его и все наконец заработало нормально!